JonathanAndBecky.org > For Sale > 200BRM
---
Rover 200BRM - NOW SOLD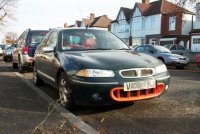 We are expecting a baby, so we sadly have to sell our 3 door high-performance car and buy something practical.

Miles: 31,000   Condition: Excellent   Location: East Anglia  
I have owned this car from new, I have looked after it, treated it well. It has been my pride and joy.

Specification:   See my BRM page or www.roverbrm.co.uk for details, but in summary:

143BHP VVC engine - torquey and powerful.
Sports suspension - grippy and a bit hard.
Close-ratio gearbox - for acceleration.

205/45 16" wheels and tyres - grippy and look nice.
Unique exterior - no crazy bodykit, understated (apart from the orange nose).
Unique interior - red leather seats, red leather and aluminium trim.
Torsen differential - maximises grip when accelerating in a corner.
Rare - only around 700 exist, this will be very collectable in a few years.
Full dealer service history, plus regular intermediate oilchanges.
6 months Tax, 12 months MOT.
Electric windows, electric sunroof, electric mirrors, 6 disc CD changer, driver's seat lumbar and height adjustment
Front ventilated disc brakes, rear disc brakes, front fog lamps, four Rover mats, BRM enamel keyfob, BRM fleece.
---
| | |
| --- | --- |
| Copyright © 2002 Jonathan Stevens | |